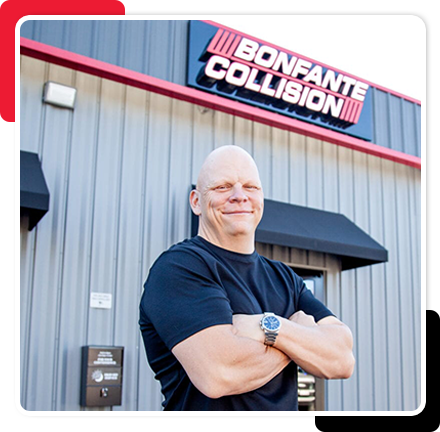 A Reputable Collision
Repair Specialist
I have been repairing collision vehicles for nearly 30 years.
I have taken that experience and formed Bonfante Collision Center, a showcase of my passion and dedication to the very best of collision repair. I take great pride in performing a top-quality product when it comes to every aspect of the auto collision repair process.
My new facility, Bonfante Collision Center, is no doubt a State-of-the-Art collision repair facility that strives for perfection and the best in equipment and certified technicians.
This combination allows us to put you, the customer, at ease through the collision repair process.
Bonfante Collision Center and I understand how stressful it is to be involved in an accident. This is one of the many reasons we take great pride in assisting you through your auto insurance claim process.Once you have contacted us with the claim number from your insurance company, we will take over for you. We'll work directly with your insurance company to repair your vehicle and get you back on the road. The only thing you'll need to do is pick up your beautifully repaired and detailed vehicle.
We guarantee that your vehicle will be put back to its pre-accident condition and factory specifications. We also stand behind all of our collision and refinishing repairs with a lifetime warranty to ensure that you feel completely confident in your decision to allow us to repair your vehicle.
I would like to personally invite you to tour our new facility and allow us to perform a free inspection of your vehicle. Feel free to contact me directly to arrange a time.
Thank you for taking the time to research Bonfante Collision Center, your State-of-the-Art collision repair facility!
Sincerely,
Mike Bonfante 
President, CEO